Boy
, it feels good to have our computer back in action, finally!
It has been almost an entire month that we have gone with out a computer (pure torture). I have been typing on my phone, or the ipad...and I forgot how much easier and faster it is to type on an actual keyboard.
It's the little things in life. :)
I am so behind on my blogging that now you guys are going to get blasted with new posts...I hope you don't mind. ;) I have so much to show you, and I am so excited!
Does anyone remember the pillow I was saying I wanted to make from
this
tutorial post? The tonight/not tonight pillow? hehe. Well, I found the
perfect
excuse to make one. One of my good friends, Danielle, is getting married in June. She had a bridal shower/bachelorette party up in McCall a few weekends ago and I made her this pillow.
First, the back: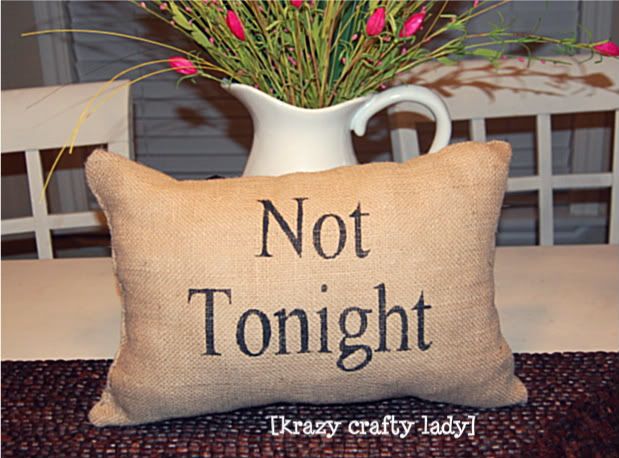 and the front:
Didn't it turn out adorable?! I loved it so much I thought about not giving it to her anymore... and keeping it for myself! Haha, is that bad? I know I can't be the only one this happens to! But, since I love her, I gave it to her. And she loved it. At least I hope she loved it :)
And just in case you want to make one of these cute little numbers for yourself...or a friend (this is the PERFECT wedding gift!) I made it the same way as
these
pillows (click on the highlighted word and it will direct you to my tutorial, in case you weren't aware.) Except that I didn't add any trim. Then I borrowed my friend
Tara's
fancy silhouette machine and printed out a pretty cursive font for the "tonight" in vinyl. I used the vinyl as a stencil (which was a little bit tricky because some parts were so darn thin...they break easily and the vinyl will stick to itself if you aren't careful). Then I just painted it on with black fabric paint and a sponge brush. I did about 3 or 4 light coats, being ever so careful not to let it bleed through. I also added some black lace flowers to the front. For the back, I decided to do a plain "Not tonight" for two reasons... the vinyl letters weren't as fragile and because I didn't want the back to look as fancy. :) Then I painted it the same way.
Very easy, and cute! I am glad to be back up and running again. Check back soon to see what this is...and what I did with it!
xoxo,